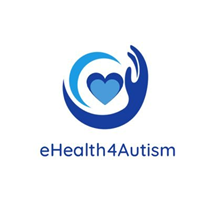 eHealth4Autism (project code: KA210-ADU-8FB0E042), a new project funded by the European Union under the Erasmus+ KA210-ADU program, launched its activities by holding their Kick-off meeting on April 27, 2023. The project aims to reduce stigma and discrimination towards adults living with autism and their family caregivers by sharing successful awareness campaigns in Cyprus, Greece and Belgium in the use of nonclinical e-health for adults and their caregivers in Europe.
Autism is a lifelong developmental disability that affects how people perceive the world and interact with others. Autistic adults see, hear and feel the world differently from other adults. Over the past four decades, there have been significant advances in our understanding of autism, yet services for autistic adults continue to lag far behind those for children, and prospects for employment and independent living remain poor. Adult outcomes also vary widely and while cognitive and language abilities are important prognostic indicators, the influence of social, emotional, familial and many other factors remains uncertain. Many have limited independence, continue to require considerable support and often remain living with parents, with little social participation outside the family.
Moreover, causes of mental health problems in autism remain poorly understood. Too frequently in clinical services, we see individuals who, during their childhood, have shown a reduction in autistic symptoms and who have initially made good progress, both academically and socially, but who then begin to experience mental health problems in mid-to later adolescence. Poor mental health often has a more negative impact on functioning than on autism symptoms per se. There is a lack of validated psychiatric assessment measures for people with autism, especially those adults who are non-verbal and/or of low cognitive ability and diagnosis often depend on proxy accounts from parents or carers, which may not necessarily reflect the full extent of an individual's difficulties. The most common use of technology to help children and adults with autism is to improve communication skills. There are hundreds of apps and many built-in features of these devices that can help support individuals with autism at all levels and abilities. One app for example could be geared towards a nonverbal child or adult, while another can help with social cues for an individual with strong verbal communication skills. The numbers of autistic students successfully completing college or vocational courses remains low. It is known that an increased risk of physical problems in autism exists, which can result in chronic health conditions and even premature mortality Technological devices like smartphone and tablets can also serve as motivation for the person with autism. The use of an iPad or a favourite game app can serve as a reward for positive behaviour like the completion of a chore or a homework assignment. The proposed project will involve the collaborative exchange of good practices in the support of Adults with Autism Spectrum Disorder and their families. We argue that this activity will sensitize key societal stakeholders to the issues and needs of adults with autism. This will help bring about positive change in the way they are perceived and treated by society and consequently improve their quality of life.
Over the next year, the project team will work to address digital transformation through the development of digital readiness, resilience, and capacity" because it is constructive to use digital health care services such as virtual support groups, apps, and e-services offered by several EU member states. It will promote those digital services through two webinars and a Learning teaching training activity. These include and a 3-day learning activity and project meeting in Limassol and Nicosia, Cyprus, the compilation of a Good Practices Guide on nonclinical e-health solutions in Europe, and dissemination.
The project is led by the Autism Praxis Infinity Solutions (APIS) Ltd from Cyprus, in partnership with the Greek Carers Network (EPIONI) from Greece and the Belgian Brain Council (BBC), from Belgium. The meeting featured an introduction to the project's core aims and tasks, followed by a presentation by each partner on their key project responsibilities and work plan, and discussions on next steps.
For more information on the eHealth4Autism project, please visit: https://erasmus-plus.ec.europa.eu/projects/search/details/2022-2-CY01-KA210-ADU-000100847
Contact Email: [email protected]
Phone: (+357) 96553924
Address: Aiginis 2, 3052 Limassol – Cyprus Dedicated project
E-Newspaper